Get Extreme Accuracy with VBX-3
VBX-3 is built on our proprietary Volatility Band eXcursion technology, and delivers you EXTREME accuracy, identifying some of the most profitable trading signals we've ever seen.
We designed our Volatility Band Excursion technology to identify the setups that are most likely to result in a high probability reversal. By pinpointing stocks that are making prolonged excursions around the volatility zones that trigger sharp snapbacks, this technology consistently finds the most profitable trading opportunities.
The Power of Three
1. X-Treme Accuracy
VBX-3 uses Volatility Band Excursion technology to identify the sharpest reversal trades we've ever seen. These signals pinpoint the turning point in the chart, accurately finding the most profitable opportunities.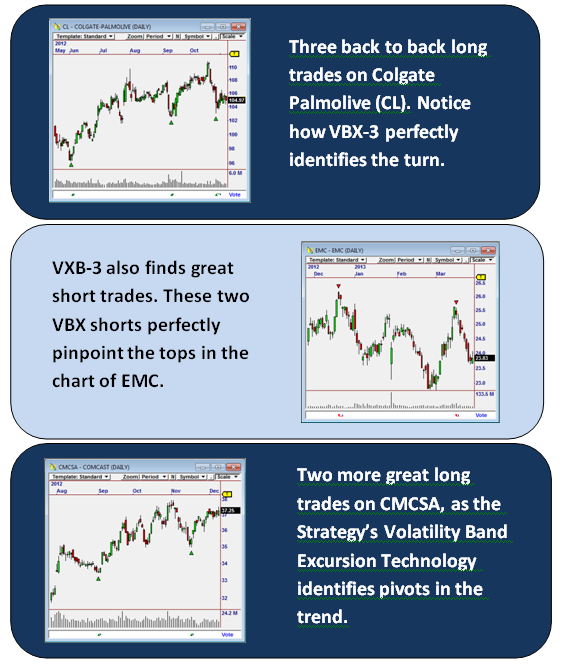 ---
2. Consistent Profits
With VBX-3, you get consistent profitability, year after year, with low drawdowns. In our test period from the year 2000, VBX-3 has shown outstanding profitability at all levels of allocation. So regardless of risk tolerance, VBX-3's premier trading signals allow you to steadily grow your account.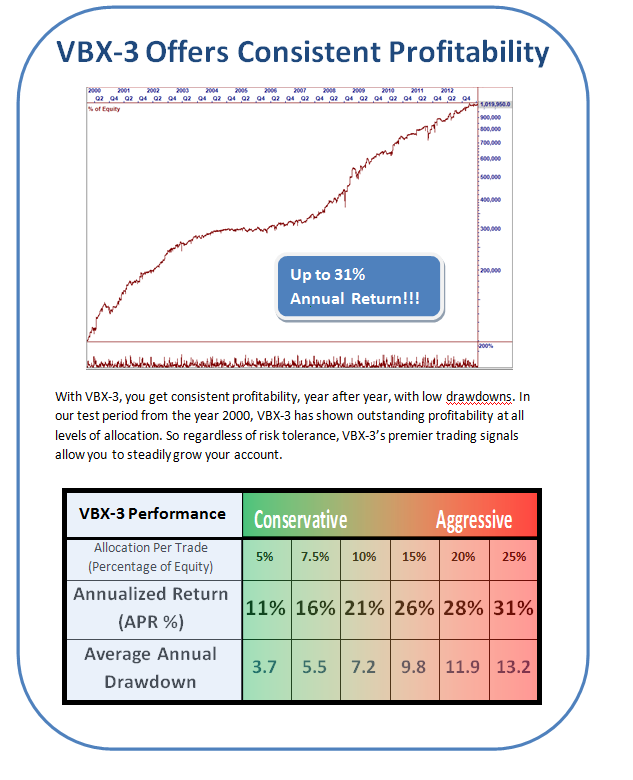 ---
3. Easy to Trade
VBX-3 is a fully mechanical trading strategy, telling you exactly when to enter and exit each of the trades. The strategy is run each day after market hours, and new trades are generated for the next day. All orders are simple market on open, making it easy to manage these great trading signals.
It's the Easiest trading system to follow:
OmniTrader identifies new trades.
Enter the trades with your broker.
OmniTrader will tell you exactly when to exit your positions.
VBX-3 is Fully Mechanical, No Guesswork!!