Extraordinary Strategies for Extraordinary Markets
Incredible Intraday Profits – No Overnight Risk!
In our Nirvana Labs, we applied our most advanced Strategy concepts to develop the Real Time Futures Strategy Suite. Armed with these signals you are going to find incredible opportunities each and every day. There's nothing like the RT Futures Strategy Suite for taking on the current market.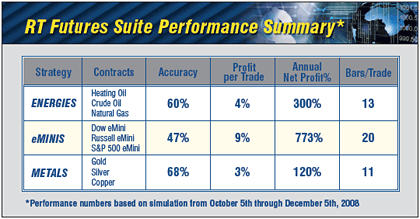 E-minis
The E-Mini market, including the Dow, Russell and S&P contracts are among the most liquid in the world. The E-Mini Strategy in the RT Futures Suite is generating enormous profits in mechanical testing, in excess of 9.7% per trade – in Real Time.
The E-Minis Strategy: Profitable Longs and Shorts in performance testing with outstanding Breakout signal detection.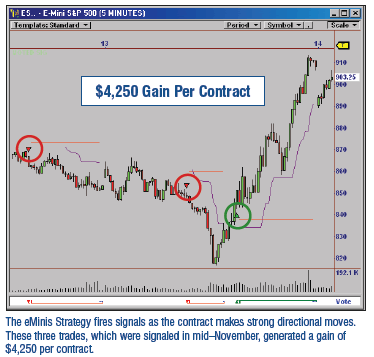 Energies
The Energy markets are in play, with incredible movement on a daily basis. This is the place to trade in 2009 and beyond. Our new Energies Strategy takes advantage of the specific way that these contracts tend to move – alerting you to breakouts that have a high probability of success in Real Time trading.
The Energies Strategy: High Accuracy and High Profitability with Low Drawdowns
Metals
The Metals are typically slow movers, but current volatility has heated up due primarily to uncertainty in the financial markets and changes in global demand for products that use them. This is another great market to trade and our Metals Strategy will identify the powerful moves, in Real Time, so you can capitalize on them.
The Metals Strategy: Outstanding Accuracy and Profitability