A Breakthrough Mechanical Trading Strategy
Strategy Features:
Consistently Profitable Over 12 Years
Very Low Drawdowns
Holds Up in All Markets–70% Accurate
100% Mechanical
Consistent Profits with Low Drawdowns
RTM7 is a powerful Strategy that is based on the Reversion to Mean concept. Testing it on the S&P 100 list, the Strategy showed solid performance over 12 years, generating an average 23% return with an average drawdown of just 5%.
Those are some impressive numbers— especially over such a long period of time and through some of the toughest markets we have seen. Shown are some typical trades identified by RTM7. Using proprietary indicators, the Strategy identifies unusual moves away from average price and looks to take a quick profit on the reversal. It also maintains relatively tight stops. It is this structure of the trades that keeps drawdowns low and steadily builds profits.
High-Value Entry Signal
Buying oversold levels in XOM.
Selling overbought levels in DE.
Powerful Short Trades
This is one of the first RTM Strategies we have developed that includes Short trades. We spent quite a bit of time working on the Entry Signal rules to avoid "false" Shorts.
This is important because most markets have a bullish bias, and it is easy to fire Short Signals against a prevailing trend. We added special trend logic to detect these situations and avoid them.
The result is that the Short Signals fired by RTM7 are simply outstanding. They tend to fire at very clear reversal points to the downside. The inclusion of Short Trades ensures this Strategy performs well in bear markets.
RTM7 Nothing But Up!
The equity curve shown below was generated by trading all Signals from the RTM7 Strategy on symbols in
the S&P 100 over the 12 years from January 2000 through March 2012.
Because of its short term trading approach, the Strategy was virtually immune to market events, including the Sub-prime Mortgage Meltdown and the more recent Credit Downgrade.
But the most remarkable thing about this Strategy is its control over drawdowns, never showing more than an 8% drawdown over the last 12 years.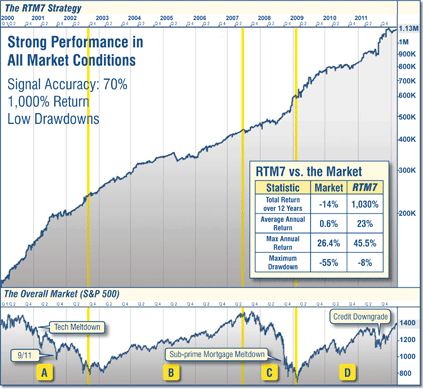 Through the Tech Meltdown and 9/11, RTM7 gained more than 120% as the value of the overall market got cut in half.
When the bull market returned, RTM7 continued to outperform the S&P while simultaneously maintaining lower drawdowns.
RTM7 was up 20% in 2008, as the Sub-prime Mortgage Meltdown takes the market 48% lower.
In the past three years, RTM7 has made more than 100%, compared to a gain of 40% for the S&P 500 which is still struggling to make up prior losses.
---
Seminar Included:
Steady Gains with RTM7
with Jeff Drake

Building Wealth in Minutes a Day!
Steady Gains with RTM7 provides additional information on the RTM concept and how to apply this powerful Strategy in various trading scenarios.
In this seminar you will learn:
All about the Reversion to Mean Concept
How to adjust the Strategy to match your trading style
How to automate RTM7 with OmniPilot
Steady Gains with RTM7 provides you with all of the information you need in order to start making money with this powerful wealth building Strategy ($199 value)