indicator Trend Line Break 3.0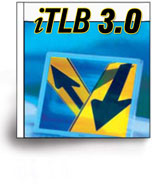 Nirvana´s indicator Trend Line Break 3.0 (iTLB) Plug-in automatically generates Trend Line Breaks on Indicators and Moving Averages to provide early confirmed Signals ahead of the big moves.
NEW! Trend Line Breaks on Moving Averages
Automatically generates Trend Line Breaks on indicators
Provides early confirmed Signals ahead of the big moves
Finds reversals in just about any liquid market
Earlier Signals = Bigger Profits
The Commodity Channel Index (CCI) is another indicator that cycles between overbought and oversold levels. Here is the CCI-TLB system, illustrating profi table reversals on HNZ.
After several months of programming and testing, our development team created the first indicator Trend Line Break Plug-in based on the concept of confirming trades with a new kind of pattern. The original iTLB quickly became our number one bestseller with thousands of dedicated OmniTrader users. These are some of the most profitable Strategies we have ever developed. And now, with the addition of Trend Line Breaks on Moving Averages and the new Bull/Bear iTLB Strategy, it's unbelievable!
Included in iTLB 3.0 is the iTLB2 Power Strategy – a non-optimized Strategy that continues to show a consistent 70% accuracy over years of testing.
The iTLB Systems do an amazing job of finding reversals in any liquid market. As Indicators move from oversold to overbought levels, Trend Lines drawn across the Indicators signal reversals when the lines are broken. These Signals are both earlier and better confirmed than any other approach we have used or seen. The iTLB Systems generate higher odds of calling reversal than any other system in the standard OmniTrader collection, which means your odds of winning are going to be improved.
Plug iTLB 3.0 into OmniTrader and run your own performance tests. You won't believe how good these Strategies are!
---
The Early Bar Gets the $$$!
The new Bull & Bear Power iTLB Strategy generates longer term signals, using the Bull Power and Bear Power indicators to identify overbought and oversold levels. Trading Signals just don't get much better than this!
---
Strong Performance

The iTLB Strategies shown here generated 70% to 80% Hit Rates from 5/1/09 to 5/1/10 when tested against
stocks in the S&P 100 index.
The new iTLB Strategies were over 75% accurate (statistics generated for Long trades only), with iTLB Bull/Bear generating an accuracy of 82%!
These statistics are impressive when you consider the fact that these are mechanical strategies!