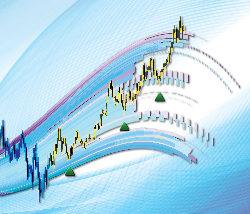 The basic concept behind Intrinsic Trend is that, using a close examination of recent moves in the market, we can find early indications of an emerging trend AND a channel within which price will likely move as the trend materializes. The objective is to enter trades on pull-backs within the channel. But that's just the beginning.
We have also developed powerful indicators that measure Trend Strength and Trend Quality. These new indicators are designed to keep us from entering trades prematurely and missing trades in clear trends.
The Complete Trend Trading Solution
Intrinsic Trend takes a unique approach to trend analysis. Its goal is not to just identify a trending market, but also to determine the quality of the trend.
First, it identifies major tops and bottoms in the recent market. Then it examines all of the price action from the major "Lowest Low" pivot and calculates the "intrinsic" trend. This is different from classic trend analysis in that trend lines are not used to establish trend.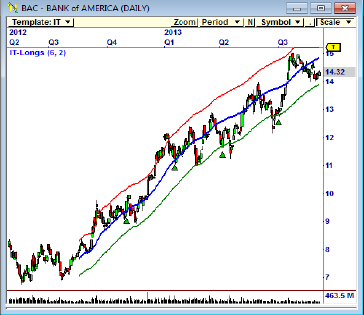 The result of this analysis speaks for itself. In our testing on the S&P 100 and other stock and ETF lists, ITM is a clear winner, making steady gains as it identifies those symbols most likely to trend over the coming weeks or months.
The Intrinsic Trend Trading Module (ITM) takes a unique approach to trend analysis with superior results. The module first looks to identify major market tops and bottoms and then analyzes all of the price activity from these pivots. The strength and the quality of the trend is determined in order to find great trend trading opportunities like these trades on Bank of America (BAC).
The Intrinsic Trend Module comes with two powerful trend-following Strategies that are ready to use out of the box: ITM Strong Trend and ITM Steady Trend.
The Strong Trend Strategy fires new Long Signals when price has been trading above the Intrinsic Trend Line but then pulls back to test the line as shown to the right.
ITM Steady Trend looks for well-behaved trends and fires New Long Signals when price pulls back to test the ITM Bands.
---
The CAPTURE THE TREND Seminar
Intrinsic Trend is going to fire superb Signals right out of the box. But you'll definitely want to pick the brain of Jeff Drake as he talks about the optimal ways to trade the markets with these new gems. If you are prospecting and using discretion on your trades, you will benefit from his insights on the best kinds of markets for trend trading, and what the best Signals look like. A $149 value - Yours FREE with
ITM purchase.