Double the Profits of the Original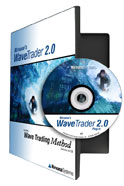 Ken Woodie has been a professional trader for over 25 years, and is the founder of theWoodie's CCI Club, an online community that practices his methods of using the CCI indicator to trade the markets.
"I began to use the CCI And started to develop patterns on it 13 to 14 years ago", Woodie says. "I noticed that these particular patterns were showing up on daily charts time after time. And so, that's when I started developing the patterns on the CCI."
CCI Ghost, Vegas and Shamu
Woodie began to give these patterns names, such as the CCI Ghost, Vegas and Shamu. While the names are unique, the results of the patterns are very similar – they consistently find profitable short term trading opportunities. Woodie has freely shared these patterns within the trading community, and hundreds of traders are using his approach to trade the markets every day.
To our knowledge, no one has ever successfully automated Woodie's approach. The number of rules and situations that must be identified is rather large. However, we felt the approach had considerable merit, we spent a long time studying the patterns and creating a series of Systems, Indicators and Stops, which have evolved into the Woodie's CCI Plug-in.
---
WCCI Nirvana with Trend Strategy 
All Trades: 
StatisticsForward Test
Number of Trades 445
Profitable Trades 336
Avg. Hit Rates (%) 75.51
Avg. Bars per Trade 7
EPR% Annualized EPR (%) 36.70
---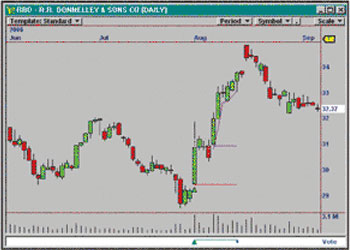 The WCCI Nirvana with Trend Strategy finds suberb Swing Trades, like the one shown here on RRD. The trailing Stops have been tuned to generate maximum profit from the Signals.
Using the power of OmniTrader, we quickly began to see ways to improve on what Woodie accomplished. The result is the WCCI Nirvana with Trend Strategy. From our testing, this version generates approximately double the profits of the original.